Extra, extra read all about it. Not the paper, but my newspaper manicure. I've really been avoiding going to get my nails done because I really felt that I should be creative enough to do them myself. I didn't just want to paint them (boring! – unless you have an exquisite hue of course) but I'm not fancy enough to do nail art and all that jazz.
Or so I thought.

Sinful Colors in "Snow Me White"
Did a little experimenting today and turns out I am all that jazz. The newspaper manicure is uber easy.
WHAT YOU NEED:
white nail polish
base coat
top coat
rubbing alcohol
strips of newspaper
scissors
First cut your newspaper into 10 nail size pieces. They should be large enough to cover your entire nail. Next put rubbing alcohol in a small dish (deep enough to dip your fingertip). Make sure nails are clean, cut and shaped. Then put on your base coat. Follow it with two coats of the white nail polish. (You can actually use any light color polish if white isn't your style.) Let nails dry for 20-30 minutes. Then, dip nail in alcohol. Cover & press newspaper on the dipped nail. Press firmly (not too hard) and then peel the newspaper off. Do the same for each nail one at a time. Once you've done all nails, cover with a top coat.
Finished product should look similar to this: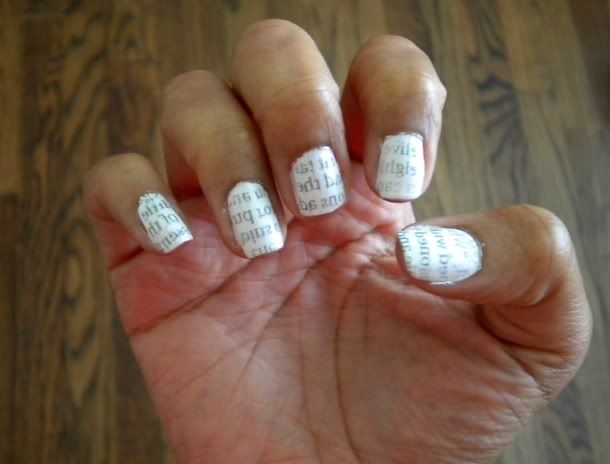 What cool at home nail designs have you tried at home?