This weekend, I checked out the new thriller, The Roommate. As expected, it was Single White Female 2.0, but the strange part was how similar the stars – Minka Kelly and Leighton Meester – looked alike in the movie. When I first saw the trailer, I couldn't believe how much they looked alike, but once you see the movie, you began to notice how different they actually are (and look). As far as the movie is concerned, it was just what it was expected to be – not great but not horrible. Not in the theaters at least. Not a flick I would suggest buying but it certainly has RedBox potential. SPOILER ALERT: There's one scene where Leighton's character forces herself to wear earrings in her unpierced ears. There was blood. I cringed. Recently, on Late Night with Jimmy Fallon, she revealed that her ears were really unpierced, she actually forced the earring and that was her blood! She did a great job playing a psycho. She had me concerned.
Let's take a closer look at the stars' style. Sure, they look alike but when it comes down to it, Leighton Meester and Minka Kelly are actually very different.

Never one to shy away from fashion, the Gossip Girl star, makes bold statements in dresses from Michael Kors and Proenza Schouler. But when it comes to footwear she seems to be a one man woman because she can't get enough of Brian Atwood.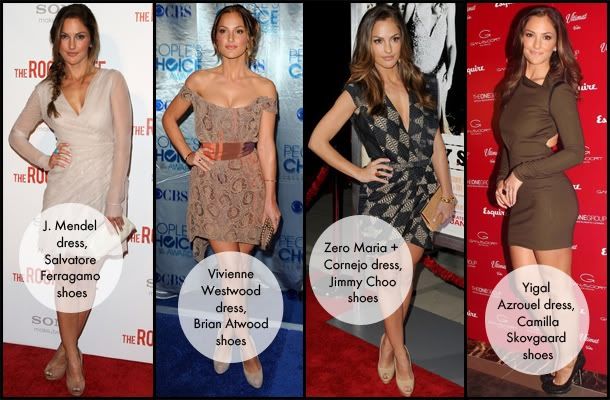 Minka may be the Sexiest Woman in the World (according to Esquire) but she's certainly very girly as well. When it comes to shoes she prefers Jimmy Choo and Camilla Skovgaard and wears feminine frocks from Vivienne Westwood and J. Mendel. Unlike Leighton, she keeps it very safe when it comes to her personal style.
So you tell me: Who has better style – Leighton or Minka?