Even if we've only met once, I want people to know that I am a person of integrity.
About a year and a half ago, I attended a media workshop with my best friend. The panel had everyone from editors, bloggers, fashion designers and other prominent people within their industries. The information was endless just as well as exclusive and I was glad I made the decision to go.
Afterwards, I did my best to speak to as many people who were on the panel to thank them and tell that their stories and advice really gave me some perspective. I did get to speak to a few people but probably missed just as many.
The day after, I went to a local arts store and bought pink stationary to send out thank you cards to everyone – even those I had spoken to. I tracked down addresses to offices and followed some on Twitter to find their email address in the case I could not send a card.
One person had truly stood out for me. We were close in age and had similar styles. Her job was awesome – and freelance – which in my book, is ideal. I sent her a thank you email which was graciously received. About a month later, I interviewed her for Mattieologie. With the exception of holidays and vacations, I've seen her just about every day and we've become close friends.
I can't help but wonder what my life would have been like without her. What if I didn't send that thank you card? Would I have had access to her for an interview otherwise? Would we have ever become friends?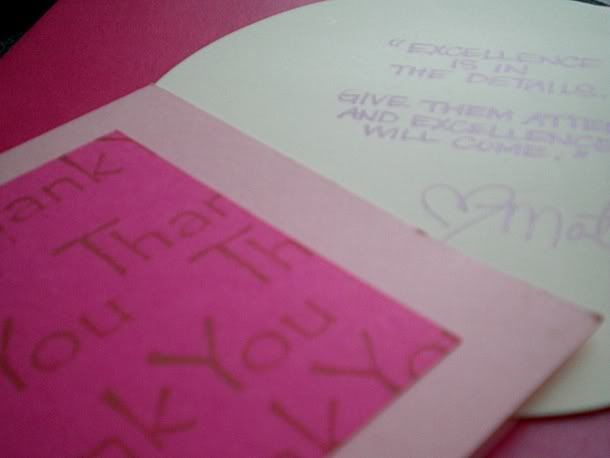 One of my self made thank you cards & a business card "pocket" I created with the quote: "Excellence is in the details. Give them attention & excellence will come." I always write a meaningful quote in the thank you card, on my business card "pocket" & on the envelope. People appreciate the thoughtfulness.
Although I sent her an email (because she's smart enough not to give her personal address to strangers), I adamantly believe in hand written thank you cards. And not just a 'thank you' but why I'm taking the time out to thank you. I always do my best to refer back to something specific they said to let them know to this thank you card goes beyond the surface.
This is just one story, but I believe my habit of writing hand written thank you cards has gotten jobs, invites to events & has won me the Miss Congeniality award in every pageant I've competed in.
They say people are in your life for a reason, season or lifetime. If it wasn't for my thank you card she may have only been a reason and now I've made a friend for a lifetime.