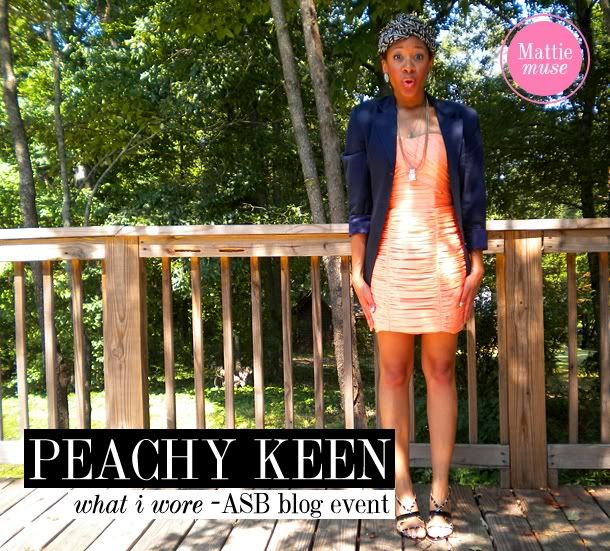 I know, I know. I have been slacking on my outfit posts this week. I've missed you all too. It has just been a very busy – blessed – week. Both personally and professionally. But I'm back in full effect. Wearing peach for the very first ASB blog event…cleverly titled – wait for it – Peachy Keen. Groundbreaking, right?
BLAZER: Calvin Klein (thrifted) | DRESS: H&M | EARRINGS & NECKLACES: Forever 21 | SHOES: Nine West | TURBAN: scrap fabric
Let's clear some things up so you don't think I'm cooler than I actually am. I didn't want to do my hair so I threw on a turban. Lucky for the both of us, it worked out. And that fantastic navy Calvin Klein blazer? THRIFTED. Calvin's not getting full price dollar from me quite yet. It's one of my favorite thrifted items. I wore this peach H&M number to Hubs' high school reunion in late June. The only peach piece in my closet.
Let's face it, peach is a peculiar color. But when you thrift right and don't want to do your hair, it's the perfect touch to an ensemble.