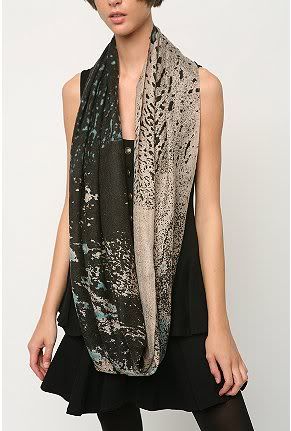 Deena & Ozzy Eternity Scarf
What is an eternity scarf? It's the answer to never losing the perfect wrap of your scarf this winter.


Destroyed Eternity Scarf
Unlike a traditional scarf, the eternity scarf is endless and draped around your neck like a necklace. Then it's wrapped around two or three times to cover your chest. It can also just be simply draped around your neck, undone. They come in various colors, prints & fabrics and are even made for men. Urban Outfitters sells a few of them by designers like Deena & Ozzy.
The pro? You control when you want your wrap to be undone, unlike it falling down with a regular one.
The Limited also sells their version of the scarf, called the Infinity Scarf.