The Caged sandal and bootie trend hit the ground running a couple of years ago. Now, it's making a return this season.
Now, at first I wasn't sure what the difference between a caged sandal or a gladiator but it's pretty simple. A gladiator is designed with the purpose of a single vertical strap or "line" to be the center of design. A caged in sandal will have various straps, both vertical and horizontal, and is much more dramatic in appearance.
(Above)
CHARLOTTE OLYMPIA
|
Caged Open Toe Ankle Boots
| $1073 | This is absolutely divine. The white straps against the metallic purple heel is a great contrast. At over $1000, this is obviously a "hope" vs. a "have."
KELSI DAGGER | Sydney | $70 | These are super cute and affordable. The reptile print is perfect for the summer and this can go with everything from a sexy mini to some perfect fitting skinny jeans.
BEBE | Bathilda | $140 | Definitely not for a shy girl. The color on this shoe really pops and makes a statement. Like the shoe, but not the color? It's also available in black.
GIUSEPPE ZANOTTI for BALMAIN | $1055 | These are sort of amazing. They make my heart sing. They make black not so boring. Which is a WIN.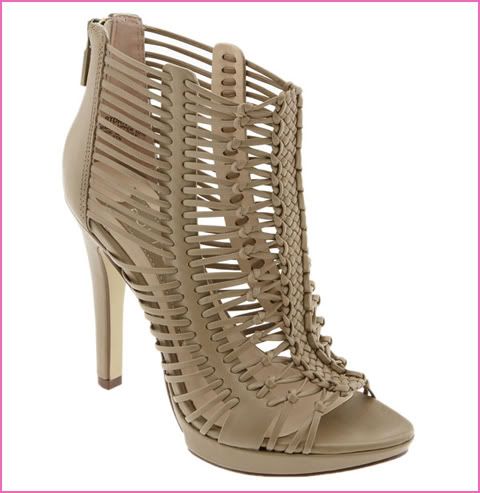 BOUTIQUE 9 | Driven | $190 | There's a very good chance these will be in my closet in the near future. As in, Saturday. Great price for a great shoe. Versatile – I'm thinking about the many things I can do with this. And even though it's dramatic, it can be worm with much. And it's a neutral color which increases it's wearability…PLUS!
NICHOLAS KIRKWOOD x RODARTE | Talon | $2195 | I canNOT even handle these. Financially or emotionally. They're like a weapon. But if the shoes mentioned before are caged this is the ULTIMATE cage. If I ever let my imagination run wild to design the best caged shoe ever, it would be this times TEN. Then they would arrive at my door for free just because. And then I would nonchalantly say, "Thank you, Nick. Thank you."
XOXO.