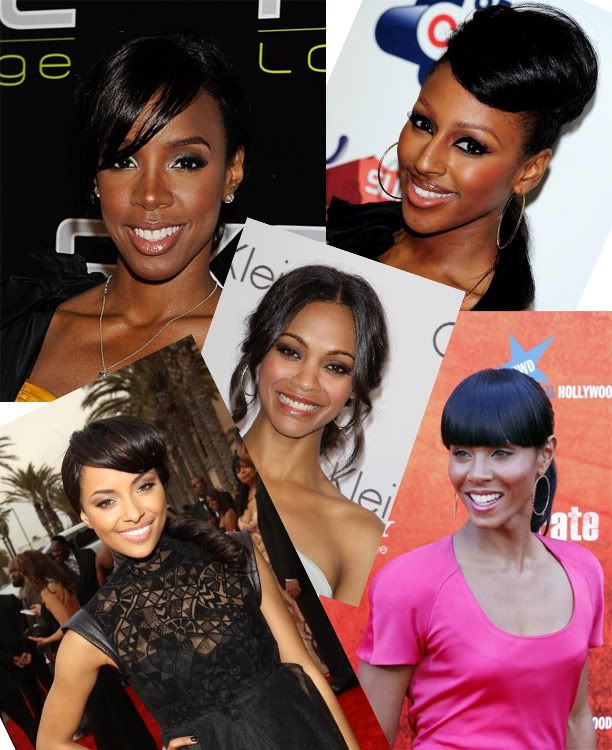 With the season changing, it may be time to switch up your 'do. Now, if you don't want to change it drastically like cutting it all off or coloring it, then pull it back into a pretty ponytail. The great thing about ponytails is versatility. You can wear for your day to day life or rock it for a red carpet event. Whether you're keeping it casual or making a grand entrance at a formal event, a ponytail is a great way to show off your face and give your mane a different look no matter the length or color. Here are a few ways you can change it up this autumn:
SKY HIGH
For a super glam look, pull your ponytail up higher than usual. It's perfect for showing off your face and keeping the focus on your ensemble instead your hair. Alexandra Burke wears a lovely version of this. With a style like this, a smoky eye or a full lash look is very flattering. Make sure that hair is pulled tight and polished with a serum or mousse to slick hair back flawlessly to fully complete the look.
PICK A SIDE
Nothing's cuter than a side ponytail when it's done right. Take note from Katerina Graham who wore a beautifully curled side ponytail. Unlike the radical 80's, a side ponytail can be worn low without a scrunchie and also be red carpet appropriate. For a more dramatic look, throw in longer extensions to add length. Pick your less flattering side and wear the ponytail on that side in front your shoulder. That way when you take pictures, you can show off your best side with your ponytail cascading down the other side.
A PRETTY MESS
An event ready 'do doesn't always have to be prim and proper. Sometimes, a relaxed, "messy" look is the way to go. Zoe Saldana wears wavy, laid back look that she pulls off beautifully. Curl all of your hair, separate the curls and then pull it all back. Leave a few pieces out for a messier look. Perfect for a dinner date or early evening social affair.
BANGIN' BANGS
Small change of hair for fall? Bangs. A sharp, blunt bang like Jada Pinkett Smith or a side swept one like Kelly Rowland wears are both great options. Pick a bang – not too long or short – that works for your face. Pull the rest of your hair back, to show off bangs and give some shape to your face. It's a perfect alternative to having all your pulled up and let down.