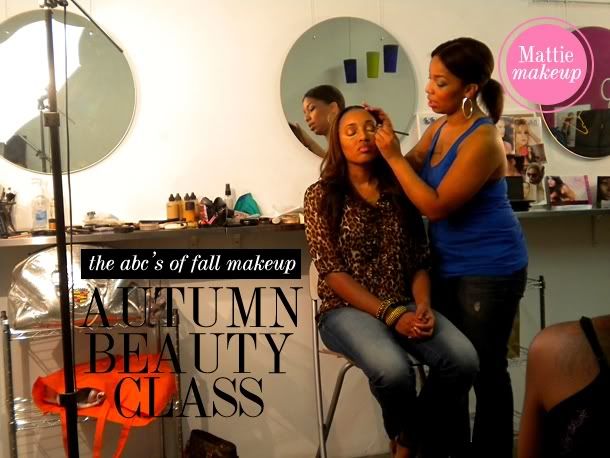 I had the privilege of attending Mimi's (of Mimi J Online) Autumn Beauty Class last week to the learn about the latest fall makeup trends. From the bronze smoky eye, spider lashes and a bold lip – not only did I elarn about fall makeup trends, but also how to make my makeup look better, period. If you're a makeup kind of girl, this was certainly your type of class.


I've worked with Mimi and the thing I love most about her as a makeup artist is how sanitary she is. She revealed to us that she used JAPONESQUE PROFESSIONAL BRUSH CLEANER. This literally has best smell ever. Very citrus-y, very clean.


I anticipated we'd start with a clean face and then applying concealer. I was wrong, naturally. Mimi used LAURA MERCIER SECRET FINISH to prime the model's face which got rid of any non smooth lines on your face. An absolute must have for your autumn beauty buys. This will change how makeup will look on your face – for the better!


As she was showing the class how to create a bronze smoky eye with a red lip (the look of the evening) Mimi expressed to us how much she was enjoyed giving skin a dewy look. As someone with oily skin, I had to ask: How do you make your skin look dewy without making it more oily? Use MAC STROBE CREAM. It brightens up the skin and makes it shine without making it oily.


Another way Mimi makes the face dewy is by using powders that aren't matte – powders that illuminate and shimmer help create the fresh, dewy look. One of Mimi's favorite products is NARS ALBATROSS HIGHLIGHTING BLUSH. The ultimate illuminating powder. Love this stuff.


You all know how much I LOVE a red lip. The red lip Mimi used was YSL ROUGE VOLUPTE 15. Amazing.


At the end of the class, Sonya (Mimi's model) looked like perfection (um, hello skin and hair I envy) and I left that class putting my make up on much better. WAY better.


A huge thank you to Mimi for inviting me to her autumn beauty class. Be sure to check her blog and follow her on Twitter for more beauty tips!