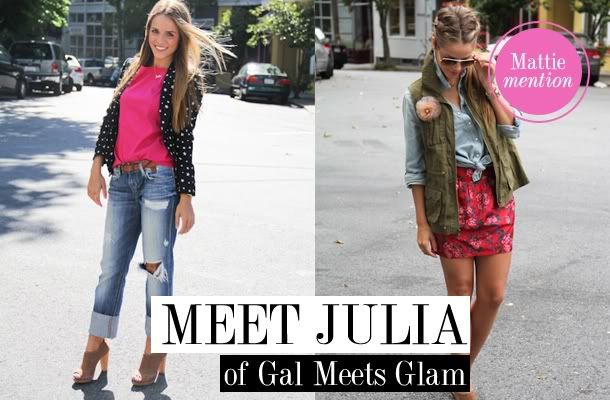 When you visit Gal Meets Glam it's sort of impossible not to adore Julia Engel, who's behind the fabulous personal style blog. Her style is fresh, feminine with pops of color and classic touches. But her daily outfits aren't the only thing you'll get from this stylish student. She also posts about her favorite beauty products and gives us the occasional Wish List/Buy List comparing high and low items. Here, she explains what her personal style is, where she loves to shop and what you'd find in her purse.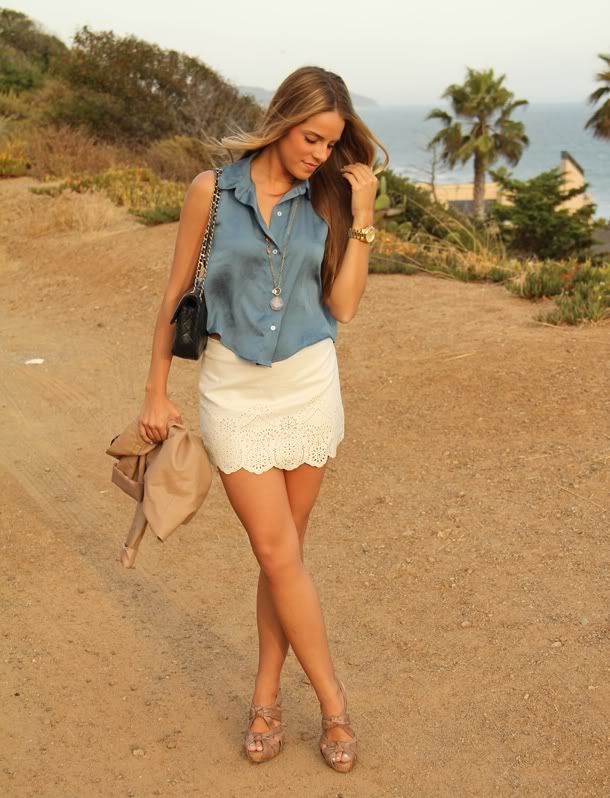 American Apparel top, Forever21 skirt, Miu Miu heels, Target necklace
Whenever I see your outfits I always think "feminine meets All American". How would you describe your personal style?
I would describe my personal style as feminine, classic, and colorful. I love adding fun accessories that really personalize my looks.
You haven't been blogging that long, but it seems like you've already gained a following. What's the motivation behind your blog?
I started my blog because I really wanted to show girls that you don't have to have a lot of money to have great style. Everything I show is pretty reasonable priced (I do splurge sometimes) but other than that, you can find many of my things from Zara, H&M, Target, and Forever21. I think a lot of people get scared to use bright colors or bold accessories. So I love when girls tell me I've helped them "try new things".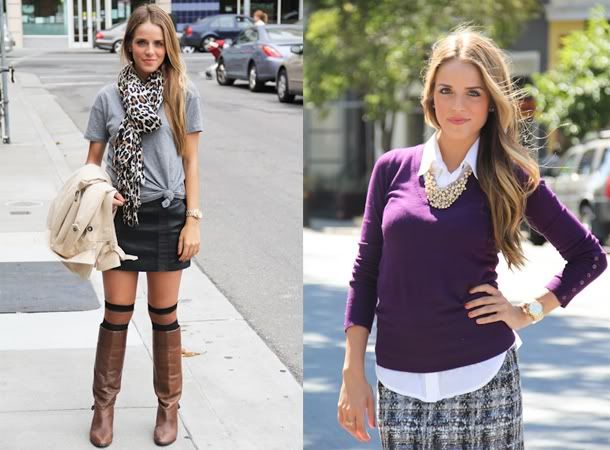 (right) Aldo scarf, Bobi tshirt, Forever21 skirt, H&M socks, vintage boots, Zara jacket, Michael Kors watch; (left) Zara sweater, BCBG blouse, Bloomingdales necklace, J. Crew skirt
When it's time to add something new to your wardrobe, where do you shop first and most?
Hmmm…that's a hard question! Well, whenever I am looking for something new I usually check out J. Crew or Zara. J. Crew because I love their preppy take on the classic look and they always have great colors and patterns (and shoes and jewelry!). And Zara because they have amazing "basics". You can mix and match pretty much anything you get from there.
You did your first beauty video last month after high demand. What beauty items will you not be found without?
I would never be found without chapstick, moisturizer, and mascara. Keeping my face and my lips moisturized is most important to me. It does not matter how much makeup you put on if your skin doesn't look good.
If I'm not mistaken you're a student. How do you balance looking great, going to school and maintaining GMG?
I honestly don't take that long to get ready so that's never been an issue for me. Luckily, I have most of my classes in the morning and I am pretty much done after lunch. I try and figure out my blog postings over the weekend so all I have to do is post them on each day. It takes quite a bit of work, but it's worth it to me because I enjoy it so much. Hearing from girls through comments, Twitter, Facebook and emails really keep me motivated.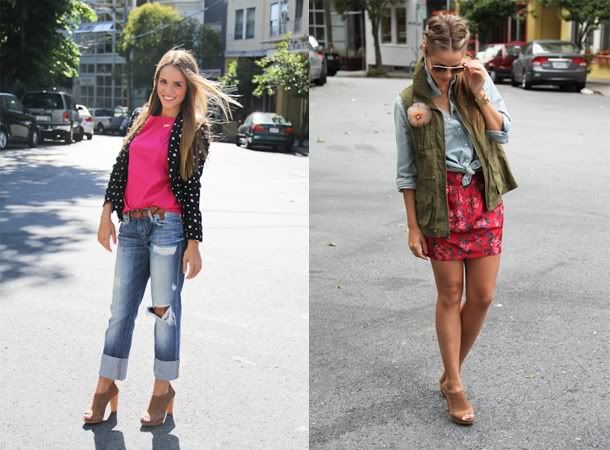 (left) Zara blazer, Zara top, Joes Jeans, Banana Republic Heels, Bamboo Sky necklace, Urban Outfitters Belt, Madewell ring; (right) Target chambray shirt, Old Navy vest, Forever21 skirt, Ann Taylor Loft pin, Bamboo Sky necklaces, Banana Republic heels, Revlon lipstick in "siren"
So if I were to dump out your bag right now, what would I find?
You would find a stuffed Tory Burch wallet (not of money, of receipts!), my Ray Ban aviator sunglasses, gum…lots of it, Burt's Bees chapstick, my iPhone, random jewelry I always forget to put away and tons of bobby pins/hair ties that line the bottom of my bag!
Here at Mattieologie, the motto is "LIVE WHAT YOU LOVE". How do you live what you love?
I "live what I love" by doing things that make me happy. If I am not enjoying something then I'm not going to waste my time doing it. I am the same with my clothes. If I buy something that I am not "in love" with, then I only end up wearing it once or twice. When shopping, I now ask myself "do I really love this?", if yes then I get it and end up wearing it over and over!
A huge thanks to Julia for letting me interview her! Be sure to visit Gal Meets Glam and follow Julia on Twitter.