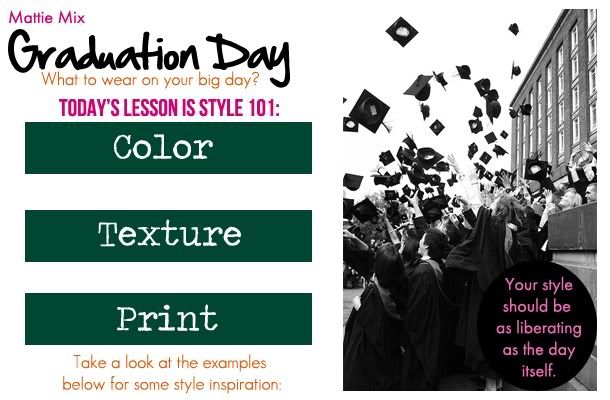 Can you believe it? It's about that time of year when a major part of your life ends and another begins: GRADUATION. A reader inquired via Twitter what you should wear on the big day and I decided to break the look down into 3 options – Color, Texture & Print – for both under your gown and the after party. Everyone's style is different and as the seasons change cute, flirty dresses in light colors and floral prints are all the rave. So let's take a look at what to wear when you celebrate this major milestone.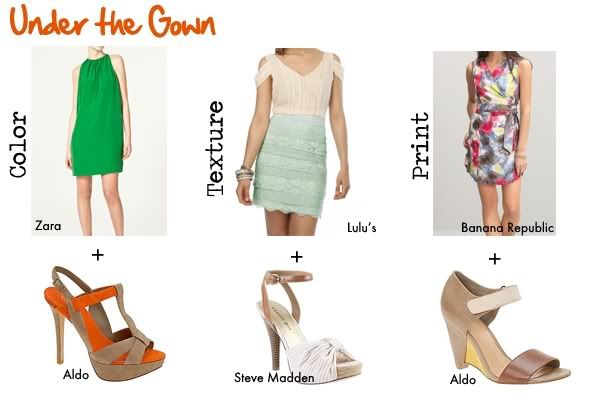 UNDER THE GOWN
For graduation, everyone from childhood friends to grandparents will be in attendance. There will probably be some sort of brunch and/or dinner to celebrate so you have to look sharp under your gown. Since the ceremony is in the day (in most cases), a cute dress is necessary. Something that's pretty but not trying too hard is best. It's important that you keep your individual style alive regardless.
This season bright colors like blue and green are making a statement so try a simple yet classic frock like the ZARA ZIP BACK DRESS. And if you pair it with some amazing shoes like the ALDO HEISTER SANDAL, you'll be sure to turn heads. The dress will compliment the shoes and vice versa.
If you're more of a girly girl like myself, try a texture like lace with a number like this LAST FROST MINT & CREAM DRESS per LULU'S. Very soft and perfect for an afternoon brunch with family. To keep the soft, spring theme going throughout your ensemble, opt for a shoe like this adorable STEVE MADDEN FRITZZ SANDAL. A great sandal option that you can wear throughout the season as well.
Some people fear patterns and prints but they can be incredibly charming. If you'd like to try the look for the first time, I suggest sticking to floral patterns for the time being. The options are endless and a great choice for this occasion is the BANANA REPUBLIC SILK WATERCOLOR WRAP DRESS that'll work on almost any shape because it is a wrap dress. Since a printed dress has so much going on already, pair it with a metallic or neutral shoe. The ALDO IVEANS WEDGE stands out without taking the shine away from the dress. Plus the wedge will be more comfortable than a strappy sandal.

THE AFTER PARTY
Whether you're heading to the club or a huge house party, take advantage of your spotlight and have fun with your clothes! Try that one dress or pair of shoes you've had your eyes on for a while. As I said earlier, enhance your individual style, have fun and celebrate yourself.
Everybody has that one color that looks amazing on them. Try a bold color – marigold yellow, cobalt blue, Kelly green – that'll pop and command attention when you enter the room. The MODCLOTH HOMETOWN PRIDE DRESS does just that, effortlessly. For shock value, pair them with some not so shy STEVE MADDEN WIICKED WEDGES and edge out everyone's shoe game that evening.
A classic cocktail dress with a sweetheart neck line seldom loses. This TOPSHOP RARE MESH TUBE DRESS is a prime example. The ruching will make you appear smaller and the color compliments almost any complexion. Want to look taller than you really are? A clean, nude pump is in order like this KELSI DAGGER LINZY PUMP. Perfection.
Ultimate party girl who will celebrate four years of school in one night? Then this ASOS 2-IN-1 FLORAL PRINT is right up your alley. Form fitting. Check. Floral print. Check. Headturning. Check, check. And it's only right that you pair it with a fun pair of shoes. These turquoise FOREVER 21 LEATHERETTE CUTOUT SANDALS really compliment the dress. Looking this gorge, it's inevitable you have a good time.
Graduation is a major time in your life, so be fearless with your look and play up your style for the big day.