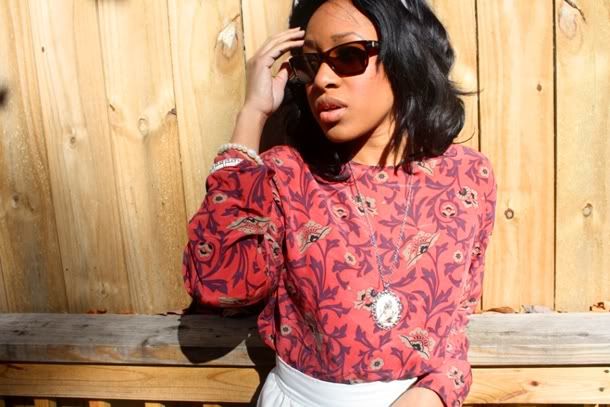 So I've been blogging on a regular basis (and a coherent knowledge of what blogging is) for over 3 years now. There have been many lessons…so many. And the truth is, I'm still a student at this whole blogging thing. Everyday I'm striving to be noticeably better. In this week's FBFF, we discuss the 5 most valuable blogging lessons we've learned so far. In typical alliterated Mattie fashion, I broke mine down with "The 5 C's of Blogging".
CONSISTENCY
Hands down the hardest lesson I've had to learn as a blogger is consistency! If you miss a week or God forbid a month, you'll lose readers. It's not rocket science. The truth is, it's one of my biggest opportunities. Post Full Time Fabulous, I've really done my best to be consistent and give my readers something that'll keep them wanting more. Great pictures, cute layouts, funny stories and *dun, dun, dun* how-to videos. It's a work in progress. I'm a work in progress. I used to see other blogs – entertainment/gossip blogs – and wonder how they had so many stories on a daily basis. Right now, I want to at least post 5 to 6 times a week. And if I can make that an actual staple on Mattieologie, then I'm on my way. I have to give myself some credit. I am only one person. With two blogs.
CONTENT
Content is king. Always. People want something to read, see and pass on to others. If you don't have that, well, it's kind of hard to be a blogger. Well, a successful one at least. Readers can totally see through fluff. And although I don't want to read a 1000 word post (not even on my favorite blogger's blog) every single day, I do expect substance. Even though that's known, to consistently give your readers substantial content is a challenge at times. Especially on a slow news day. That's why I try to take my own photos, make my own videos and plan. Original, exclusive content usually wins. Usually here on Mattieologie, I give you the scoop on celeb trends and where to find what, but I've been doing my best to include what I like and wear myself. You can't find that anywhere else.
CREATIVITY
Throughout the first year of this blog, I have gone back and forth on different "creative" ideas. And let's be honest, I'm posting about celebs, clothes and accessories – nothing too serious – so sometimes layouts and colors can really take content to the next level (in my opinion). I've gotten to a place where I'm actually content with my layout (there's a first for everything) and have certainly developed some skill in Photoshop. My first efforts were courageous, but far from impressive. I do pride on my layouts though. Not all bloggers have the skill to create layouts and even if they do, they don't take the time out to make them. It can easily become time consuming. Regardless of the extra time, I'll do my best to continue to do so because it's become part of the Mattieologie DNA.
CLARITY
Having a voice – a distinct one – is vital. It's all part of the clarity of your blog and your content. There has to be a consistent tone – I do happy very well. Angry or drastically sarcastic? Not so much. I've mentioned this over and over: my blog is a place for positive feedback and happy thoughts. I've always been clear on that.
Photos are another thing that must be clear. They must. Blurry photos aren't just bad looking, they're distracting. Especially if they're your own photos. What I've learned about my little point and shoot Nikon Coolpix is that it shoots better in natural light. On a tripod. Always. And so that's what I use when I shoot my OOTD pictures. If I don't have my tripod or someone to take good photos of me, I take that L.
No photos > blurry photos.
I'm still in the learning stages of editing photos, but I realize it's very important no matter how good a camera is or how good the picture comes out. Editing just takes it to the next level.
COMMUNITY
Your blog should not simply exist. You have to not only build a community with your readers but also with other bloggers. It's the biggest lesson I've learned as a blogger. Even if your blog is average, if you have someone who will read it regularly…it will thrive. I do my best to visit other blogs, read thoroughly and comment genuinely. As much as I'd like to do that every single day, I definitely take a good 2 hours out of my week to do so. And to be honest, I don't do it for the sole purpose of "you comment on my blog since I commented on yours" but just to learn from other bloggers and get better. If you support the blogger community I truly believe that you'll have good blogger karma.
What goes around comes around. Especially in the blogosphere.