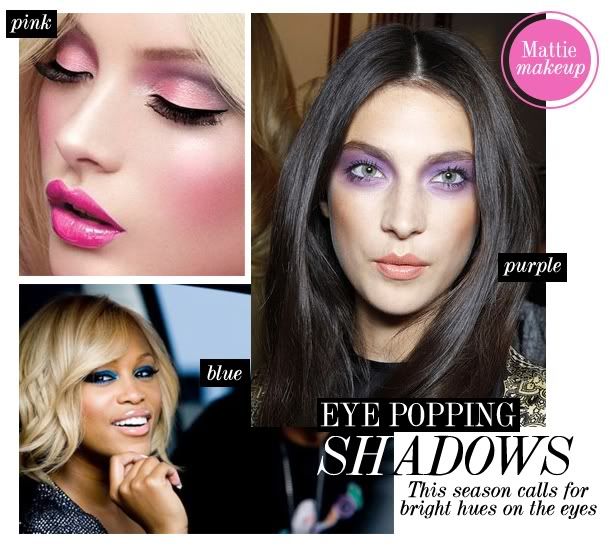 Not too long ago, a reader asked which eye shadows are flattering and really POP! Well, while there are numerous colors out there, not all shadows are created equal. Certain eye shadow hues look better with certain eye colors as well as complexions. Let's break it down, shall we?
BROWN EYES
With pretty browns, purple and green eye shadows are best. The deeper the brown your eyes are and the darker your complexion is, the deeper the color (pigmentation) the shadow should be. Be sure to blend generously and line eyes for some extra pop. If you go the blue route, I suggest it's not alone — line eyes and blend with neutral/crease shadows.
GREEN/HAZEL EYES
Arguably the best eye color simply based on the fact that you can pull off any color shadow. Blue, purple, pink & even green look good on you. A few pointers though: pay attention to how your complexion contrasts with the eye shadow. If you have green eyes and dark skin, keep your hues middle to deeply pigmented. Should you have fair skin and hazel eyes, keep shades light and metallic.
BLUE EYES
Pink and green shadows are your friend. Depending on how blue your eyes are you can pull off really metallic shades of these colors too. Should you dabble in purple, stay in the lilac & lavender family especially if you have a fair complexion. Play around with raccoon eyes sensibly, but if done right it can be flattering and make your eye color seem endless.
Grooming is incredibly key for your shadow to live to the fullest. Pay attention to:
WEAR
If not done right, your eye shadow can only last for an hour or two. Primer helps your shadow last in any situation: hot summer days & long nights out on the town.
TRY: Clinique Touch Base for Eyes, $14.50
BLEND
Unless you're a makeup master, colors shouldn't worn alone and should be put on with the right tools. I'm a firm believer in blending until it's perfect.
TRY: MAC 239 Eye Shader Brush, $24.50
BROWS
We've all heard it: brows are the shape of our face. So it's imperative that you groom to maximize your shadow color.
TRY: Tweezerman Slant Tweezer, $20