Hey guys! Welcome to Ask Koko, a new Friday Feature here on Mattieologie. Just like anyone else I always have questions about hair. How to wear it, should I change it and how to take care it. Well, have no fear because Koko is here. Korpo "Koko" Momolu (that's right she's the younger sister of Liberian-born fashion designer Korto Momolu) is your go-to hair connoisseur. Aside from doing hair for the last 12 years, Koko is on top of the latest hair trends and products. So now she's going to bring them to you in a regular column here on the site. If you have any questions on what you should be doing with your hair, she's your girl.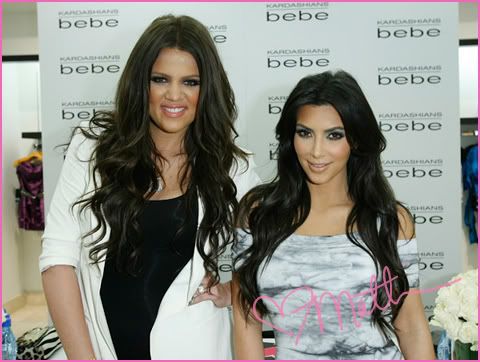 THE LOOSE WAVE CURL
Big loose curls are the hottest trend for spring! The Kardashian sisters have made this style their trademark look and it's also a favorite of mine. I love it because it's so versatile and chic. Whether you are going to the beach or a trendy lounge, it's as simple as grabbing that large barrel curling iron, wrapping large sections of your hair around it and adding a little hair spray to give it some hold! If you're into big hair like me, there's nothing wrong with adding some volume to your hair by heading down to your local beauty supply and buying that pack of "Ocean Wave Curl." That way the hard work is already done for you. All you have to do is walk out the door looking fabulous!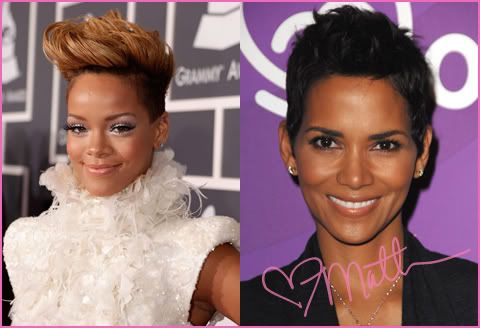 THE FIERCE CUT
In order to pull this look off you have to own it, and rock it like you invented it! Rihanna is constantly reinventing the fierce cut. With her shaved sides and golden blonde hair, she can get any "rude boy" with this rocker cut! To soften this look, use a couple of small curling rods and add a handful of wrapping lotion. If you're not as bold as RiRi, but still want the fierce cut with low maintenance, you can never go wrong with the Halle Berry cut. Halle's tousled look is easy because you can get out of bed, roll your fingers through your hair, and just go. Both of these cuts are great ways to keep cool this spring!
A POP OF COLOR
It's spring, the flowers are blooming, the sun is shining and it's time to have a little fun with your hair, ladies! Go lighter, get highlights, be bolder! However, finding a color that is perfect for you can be a little difficult. It's all about skin tone. You have to find a color that is going to give your face that perfect glow and balance out your complexion. Just because your girlfriend dyed her hair red, does NOT mean you can! You want to lighten your hair to where it looks natural by doing a slow transition. Gabrielle Union definitely did this color justice and it is giving her the ultimate glow! If you are unsure about what color to use, check out a color chart to see what color best fits you. Even a full sew-in or extensions can give you what you need if you want to just try out a certain color for a couple of weeks.
THE EDGY BOB
The bob is a great style for spring, especially for you ladies with a round or heart shaped face. It will even help make your face look slimmer! I don't know about you ladies, but any hairstyle that makes my face look slimmer is a winner! Even though the bob is a cute cut, let's be honest, it's not for everyone. If you're interested in trying it out, I would recommend going to a wig store and trying on a couple of short bob wigs. It's a great way to find out if the cut is for you and it's also a fun activity to do with your girlfriends.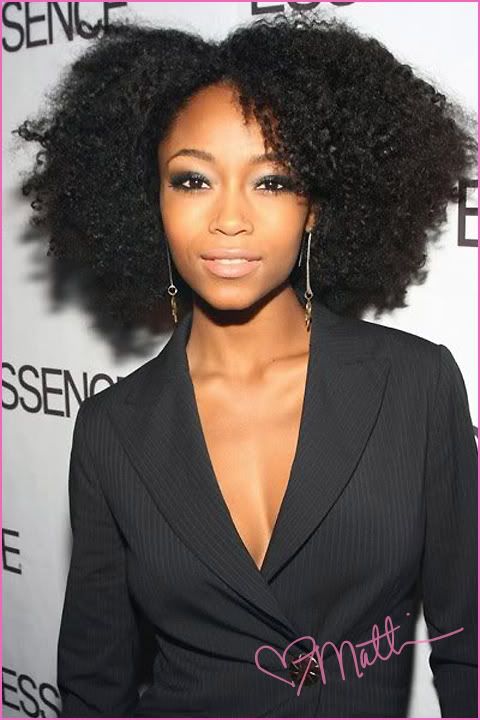 AU NATURAL
When I think of natural hair, I think of confidence, versatility and beauty. Natural hair is actually for any season, from a fro like Yaya DaCosta from
America's Next Top Model
to dreads. Natural hair makes a bold statement that says "I am here." I am at a point where I am no longer getting relaxers and it's hard to be off the "creamy crack" but is best thing I have decided to do. Whether you are wearing braids on the side of your fro, or using curling rods to give those dreads that extra "va va voom," you can pretty much do anything with natural hair in the spring!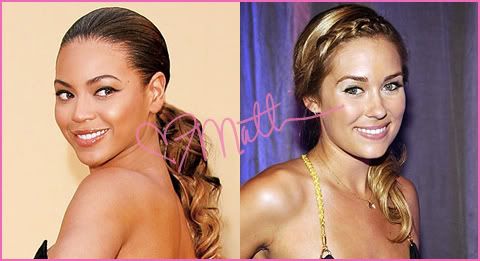 THE CHIC PONYTAIL
There is nothing worse than a plain ole ponytail! Since it's spring, it is the perfect time to slick your hair back and show that beautiful face of yours. If your hair is not long enough to go in the ponytail, add some hair back there to give it length and fullness. I would recommend using extensions instead of a drawstring ponytail which tends to look a little fake. If you're not into the slick back ponytail, throw a braid in the front similar to Lauran Conrad's look. Even a cute bun works if you don't want any hair in your face or on your neck.
PRODUCT OF THE MONTH: Herbal Essences' Long Term Relationship – Helps your hair grow, it's light and smells great!
WEAVE/EXTENSION OF THE MONTH: Goddess Remi – Minimal shedding, you can reuse this hair for more than 3 washes, and best of all it's for a great price with a variety of styles to choose from!
WEBSITE OF THE MONTH: Hairsisters.com – Great website to find whatever you need from the right weave to the perfect styling products. Fabulous deals for new customers like free shipping with a $70 or more purchase!
HAIR FLIP,
Koko
***MATTIE MEMO:
If you have any questions for Koko about hairstyle/products or would like to make a hair appointment with her, you can contact her at [email protected]
***