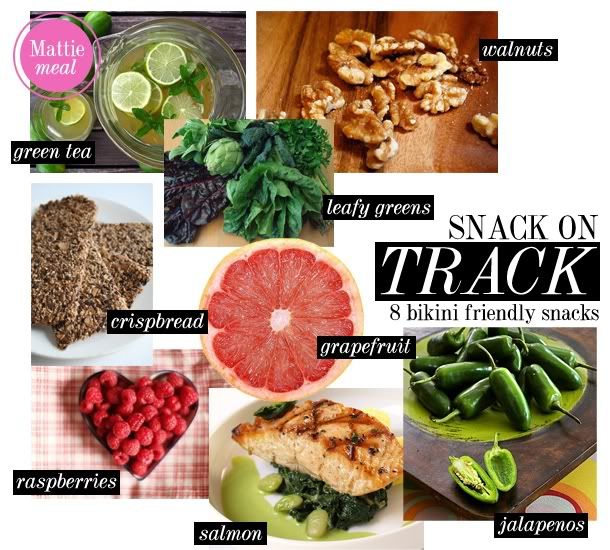 With summer in full effect, I can hardly stay away from the pool. That being said, I've been doing my best to stay in bikini friendly shape by watching what I eat. It's kind of hard with BBQ's, weddings, birthdays & holidays. But when I can remember these are snacks I grab to eat before or take with me to the pool.
WALNUTS
Super rich in fiber, B vitamins, magnesium & vitamin E, these nuts are full of omega 3 fatty acids which are notorious for helping keep your tummy flat.
GREEN TEA
Full of antioxidants that burn fat (and fight off cancer & disease). But because it's summer, feel free to ice your green tea and add citrus — like limes, lemons or oranges — for more fat burning benefits.
RASPBERRIES
Loaded with vitamin C and fiber, raspberries are delicious & good for you at the same time. And don't worry if you get carried away with snacking on them. 1 cup is only 60 calories.
GRAPEFRUIT
Known for burning fat the most out of all the citrus fruits, grapefruit is also full of potassium and vitamin C. Goes perfect with breakfast in the morning or will quench your thirst on a hot afternoon.
CRISPBREAD
This cracker like snack is full of fiber and because it's made with rye flour (a whole grain) it contains very little fat. Again, I repeat, VERY LITTLE FAT.
JALAPENOS
Love spicy food? Well, reap the benefits. What makes jalapenos & other peppers so hot? Capsaicin. Which also boosts your metabolism and lowers your cholesterol. Burn baby, burn.
LEAFY GREENS
This should be no surprise. In case it though, greens like spinach, romaine lettuce & kale are full of minerals (iron, calcium, potassium, and magnesium) and vitamin K. On top of that, they're low in carbs and contain those belly flattening omega 3 fatty acids.
SALMON
Whether you grill it, bake it or sear it in a pan salmon is always delicious. And doesn't just have to be a dinner. Eat it with a leafy salad or even add it to a flatbread panini. The perks? Tons of B vitamins, vitamin D, several minerals & omega 3's. Not only will your waist reap the benefits but so will your hair and skin.