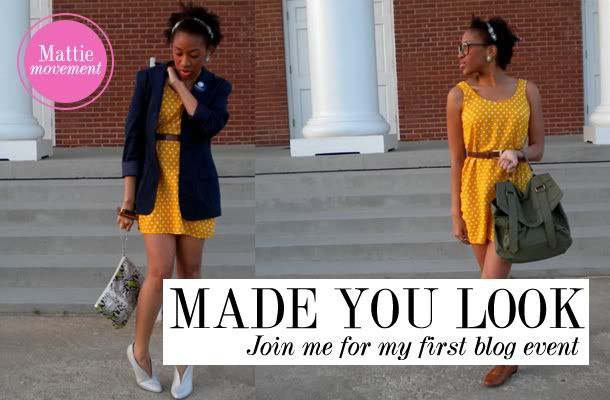 Above are two looks from my One Dress, Two Ways post. One of my favorite posts to date. I've been doing some thinking and I think I'm going to make that move. I'm going to host a blog event. I'm super excited because I've come up with a pretty cool concept that I think you guys will like.
The blog event is called "Made You Look". We'll focus on one piece at a time – a dress, a scarf, a top – and capture the different ways we can wear the piece. It's always so awesome to see how people interpret different outfits and so to see how many ways they can wear a piece not only maximizes your wardrobe but gives everyone new ideas!
Great, right?
So, the first MYL theme is 'Scarf Face'. How many ways can you wear a scarf? Depending on how long it is, you can do a trillion things with it. And the number of looks you do is up to you, it just has to be more than one. (UPDATE: Decided on at least two looks, but no more than three. That way we're not overwhelmed posting or reading others' posts.) I'll have a Mr. Linky set up on here to link everyone's blog to their Made You Look posts. The first one starts next Tuesday, August 9 at 12a EST.
I'm super pumped! I hope you'll join me. I can't wait to see all the fabulous ways you guys will wear your scarves. If you have any questions, just email me at mattie@mattieologie.com.
Happy Monday!