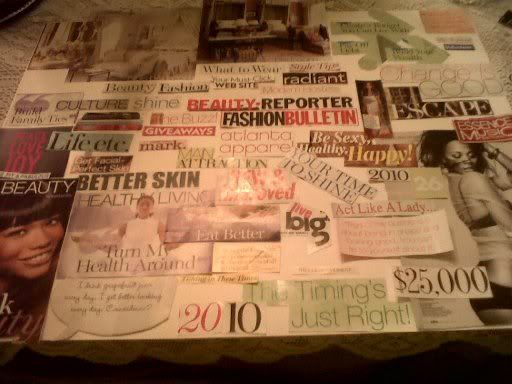 My 2010 Vision Board
If you can see yourself doing it, then you can actually achieve it.

Below, you've noticed that I've listed my resolutions, goals and aspirations for 2010. However, I am more likely to succeed all of those things with the help of my VISION BOARD. Visualization is key in success. Growing up, my mom always made herself a goal poster and after the success "The Secret" (by Rhonda Byrne – 2006) I realized why it actually worked.
When you actually see yourself doing something, accomplishing something, working through to get something it works. There is a good chance you will actually accomplish the goal you're thinking of. So visualize yourself doing the work to get what you want this year – over and over again – and you will ACTUALLY do it.

WHAT YOU NEED
Old magazines (3 to 4)
Scissors
A poster board
Tape or Glue
An open space that you will see everyday to put the board
Positive thoughts
It's pretty easy, but just in case – Cut out words and objects from the magazine that motivate you and explain what you want to achieve this year. From what you want to look like, who you want to be, what you want to eat, what you want to do, how much money you're going to make…cut it out and put it on that board. Tape it, glue it, find some way to make it stay. And make it look nice. Then, find a spot on the wall to put it…mine's in my office…and then you're set.
Look at that thing everyday! Until you've embedded what's on that board in your brain. Tell yourself affirmations daily.
And if you believe it will happen – it will.